High vacuum central extraction units allow to use several extraction welding torches and/or slit nozzles. Driven by a powerful side channel fan at high overall pressure, extracted air volumes as of 100 m3/h and velocities of 0.25 m/s at a distance of 20 mm of the contact tip of each connected extraction torch are guaranteed. Every installation is calculated specifically for the number of welding torches to be connected.

The design of the central extraction units allow to adjust electric consumption to the number of torches actually in use. The operating costs are thus matching the economical activity of the production site. When using the auto regulation according to the number of torches, the side channel fans offer the advantage of very low mechanical inertia, thus enhancing the response time in the event of variations.

The central extraction unit features one maintenance point and few floor space occupation. It features a fan with a noiseproof housing as well as filter cartridges with automatic cleaning. The cleaning is managed by a programmable electronic controller. The ductwork that is made of smooth pipes allows transportation of welding fumes from the extraction torch to the central extraction unit.
We offer you customized maintenance contracts.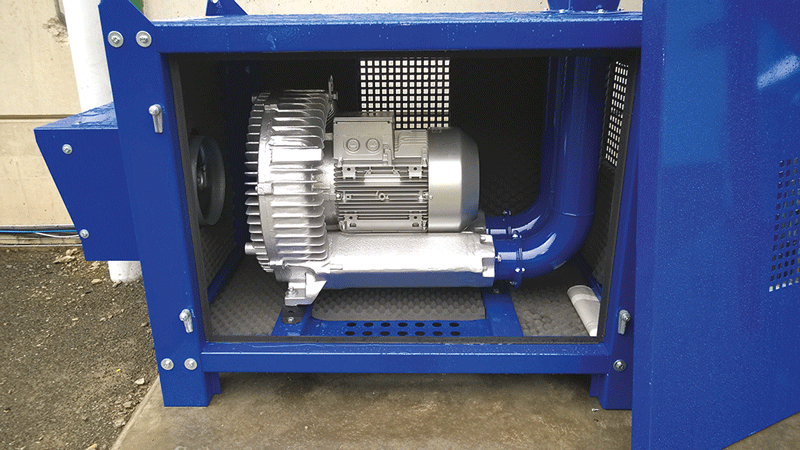 Technical features

Technology: side channel turbine size based on the number of the connected extraction torches or other capture devices. (Depending on the network length and calculated losses).
Possible flow rates: from 400 m3/h to 4000 m3/h.
Power: from 9 kW to 50 kW.
Filtration: pneumatic cleaning cartridge dust collector.
Filter surface from 40 to 50 m3/h per m2. (For the cleaning of 1000 m3/h: surface of 25 m2) Treated polyester filter element for an efficiency of about 99% on particles from 1 μm.
Electrical functions: intelligent flow regulation depending on the number of torches used. (Control unit features a speed regulator with pressure sensor).
Extraction activation: electro-pneumatic valves for an activation triggered by arc ignition (time delay is possible after welding).
Les Centrales